This past November, I traveled to a polo farm in a rural town approximately three hours from Buenos Aires. I don't play polo, but I thought it would be interesting to see what goes on. Well... my dad likes to play polo and I asked to tag along.
We stayed at La Mariposa Polo Farm in the town 25 de Mayo. The accommodations were lovely. As we arrived early in the season, we were the only people staying there. Had we arrived later, we would be sharing the place with a bunch of other polo players from around the world. That would also include partaking in communal meals prepared by the small staff. Instead, we dined with the farm's owner, Mariano, and his family. He was an exceptionally kind host who was never short for humor. With a story on hand at all times, one couldn't miss the extraordinary aspects of his life in spite of his honest self-awareness. He explained that he was working on learning his sixth language as he traveled the world to play polo when he wasn't running either of the two polo farms he owned: one in Argentina and one in England. He laughed about the youthful imprudence he and other polo players had when they drank beer in between chukkas just as he did when he spoke of moving around South Asia with a diplomatic entourage. He laughed about traveling across Argentina on horseback with a group of friends and returning home weeks later to a magnificent party and smelling absolutely abhorrent. He laughed about how he never went to a doctor in his life and was therefore quite burdened by untreated injuries just as he laughed about trying to set up polo matches for clients in unlikely parts of the world. But he was serious when he explained that he was training his son to play with far more caution and care than he had ever taken.
Mariano extended the same patience and good humor he applied to training when we barraged him with questions about all sorts of nonsense. With his children running around playing with one another, and his wife darting about, managing both work and hospitality, I felt enveloped by the affection they showed for one another. On one evening, Mariano brought back an enormous quantity of red meat and spent hours tending to a large grill beneath the looming trees, preparing asado for us. After our bellies were properly full, Mariano cradled his sleepy six-year-old son in his arms, hugging him and teasing him in English. It would be disingenuous to say that we, as strangers, became part of that family, but their joy and love were not hidden from us.
I know that I am still ignorant of how important polo is for Argentina. What I became somewhat aware of, however, is what it takes to be in the polo business. Naturally, I was not privy to anything but a tourist experience, and a quite cushy one at that. But I did get to see the training of the horses, breaking in the ponies, the practice matches, and even some hairy accidents.
On the second or third day of our trip, I felt courageous enough to start taking photographs with my DSLR. Despite having taken photos for seven years now, I am still quite self-conscious about photographing other people. The farm lies along a dirt road that suffers greatly from natural pot holes and humps. Cars drive up to the farm on a grass alley that is sandwiched between two practice fields. A group of one-story, stone buildings with flat, clay roofs rest directly across from the main practice fields. The buildings devoted to Mariano's family overlooked one goal of the main practice field. Across from the house for Mariano's parents rested a long picnic table beneath the drooping foliage of large trees, and beyond that, the building devoted to the dining room, a TV room, a kitchen, and a room filled with plates, chairs, and trophies. I am being quite serious when I say that this room only contained plates, chairs, and a large quantity of trophies. Near the dining building were the guest buildings. With three to four spacious rooms each, we occupied the one closest to the kitchen while the second building that rounded out the compound back towards the practice fields remained empty.
I walked along the grass avenues that surrounded the practice field, the only barrier protecting me from a runaway ball or a horse galloping with too much momentum was a rust-colored, plastic fence no more than four inches high. After snapping a good few hundred photos, I felt it best to try and back away from the action. As I was heading back to my room to put down my camera and pick up my book, I turned around to take a few more photographs. Through the viewfinder, I saw a rider fall from his horse before another horse, causing another rider to fall and his horse, which ran to the stables. I froze with uncertainty, awash with an awkward feeling, before cowardice mingled with reason and I turned away from the scene, realizing there was nothing I could do and that it was better to disappear. But I turned back again to see Mariano descend his horse to attend to the injured while the others looked on from atop their horses. A small, green ambulance rushed down the grassy driveway and straight onto the polo field to take one man away, who shattered one half of his lower half in the fall. The other sustained severe bruising that splashed a disturbing pattern of deep purple across the canvas of his pale skin. Practice was halted for a few days as the injured recovered and I turned my lens towards the ample scenery.
The quantity of land devoted to horses is enormous. On the last two days of our trip, I joined my group on an hour long ride throughout the area surrounding Mariano's property, which I learned was either Mariano's property or belonged to a family member of his. I was struck by the unbelievable beauty of it all. While I was bobbing along on the little horse designated for Mariano's youngest child, and thus one patient enough to deal with my lack of skill, I just kept turning my head left and right, scanning the vast expanses of green grass that stretched towards the horizon without interruption save for the occasional fence, farm, or horse. The air was sweet, the sun was warm, the sky was clear, and the day was perfect. I was only upset that my companions wanted to canter and that I could no longer calmly take in the scenery around me.
Our trip also coincided with the date that the town was founded: November 8th. Mariano drove us to the heart of the town in the midst of celebration. Understanding no Spanish and having a regrettable lack of knowledge regarding Argentina's general history, I could only superficially look on at the festivities. I was grateful that Mariano had specially reserved seats so close to the action because I was able to stick my big, fat, tourist lens into the parade unimpeded.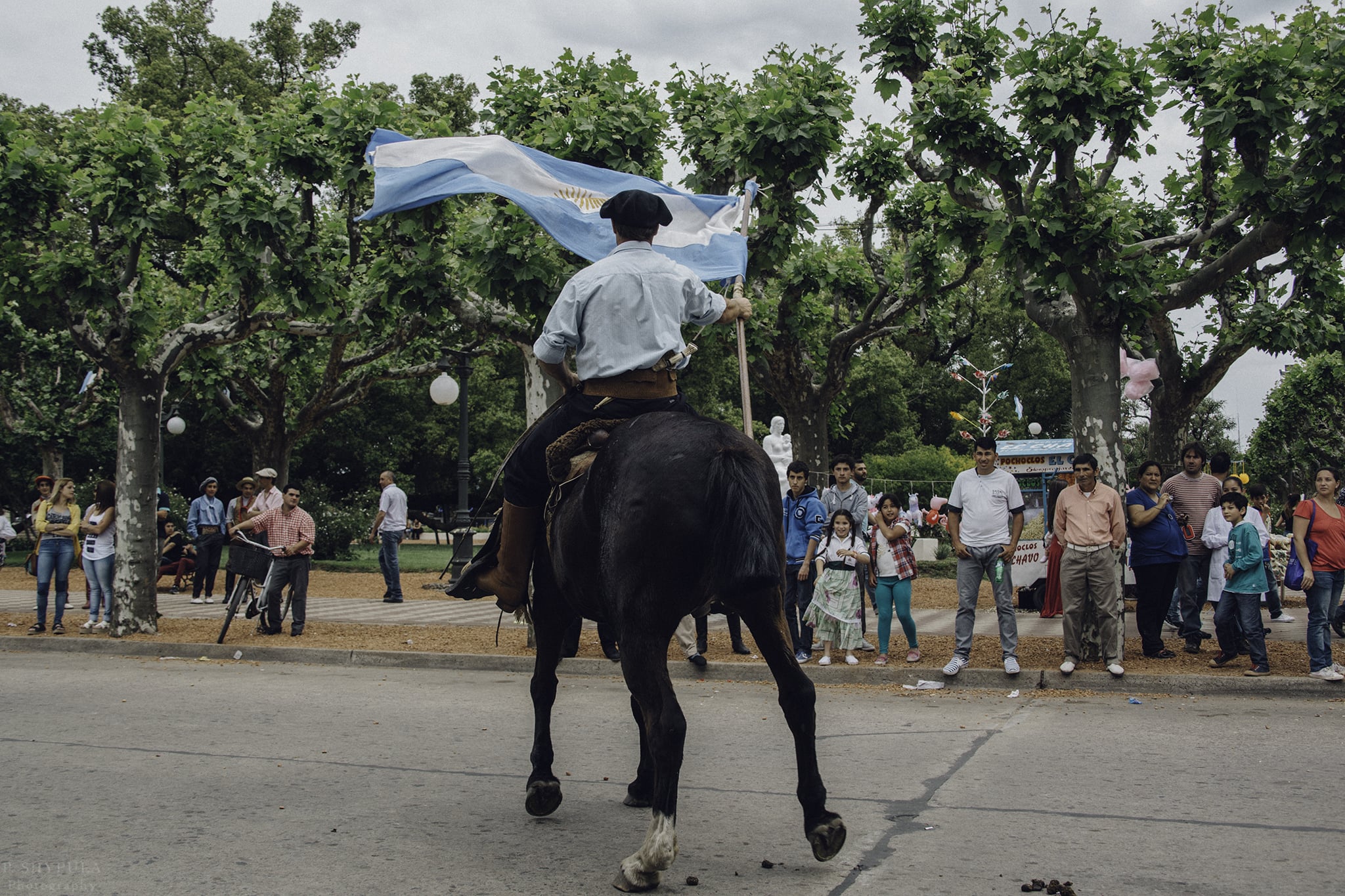 After an incident in which a massive spider descended from the crevice in our ceiling, I don't think I will ever be able to return to the region. While my phobia precludes me from going on many adventures, I will have my photographs and my memories of my first and final stay in Argentina. I did however learn that the creature is a harbinger of rain and that in the midst of a drought, they are a welcome sight. I was not quite so joyous when, on the last evening of our trip, I noted the drop in temperature that holds within it the promise of rain as well as the return of that awful arachnid.