Well, we've rung in the new year and it turns out that I can maintain a year-long project (even if I didn't post about it regularly).
In January, I decided to embark on a 52 week photo project using Polaroids. I thought it would be a fun way to play with my Polaroid cameras and maybe learn something a long the way. The rules I created for myself were to just take at least one new Polaroid photo each week and to only use Polaroid cameras with Polaroid-type film (Polaroid or Impossible Project film) rather than FujiFilm's Instax film. The TL;DR of it all is that it was actually kind of hard and I spent a lot of money. Like... a lot of money....
If you'd like to read more about what I learned, the novella-length low-down is below the gallery: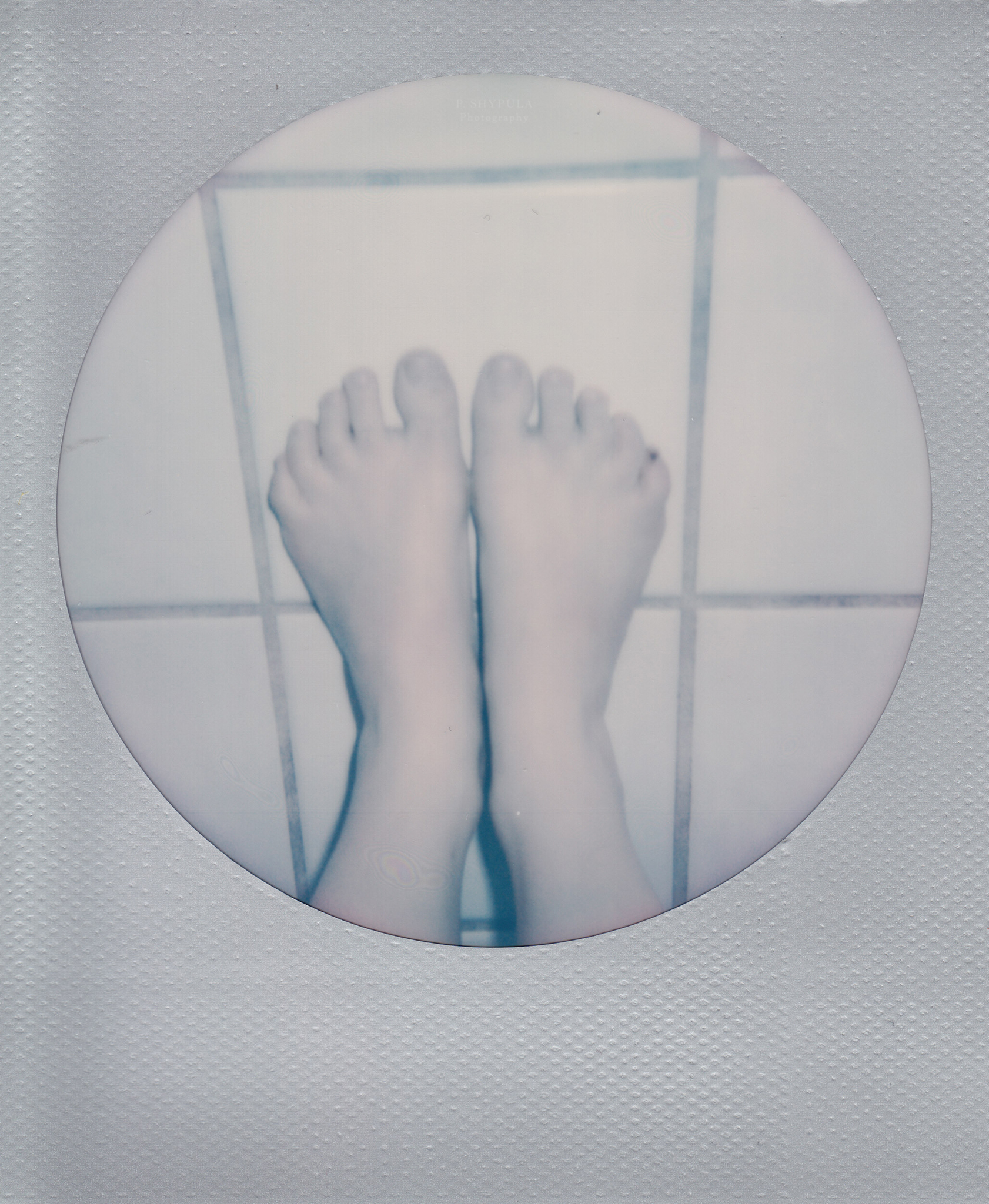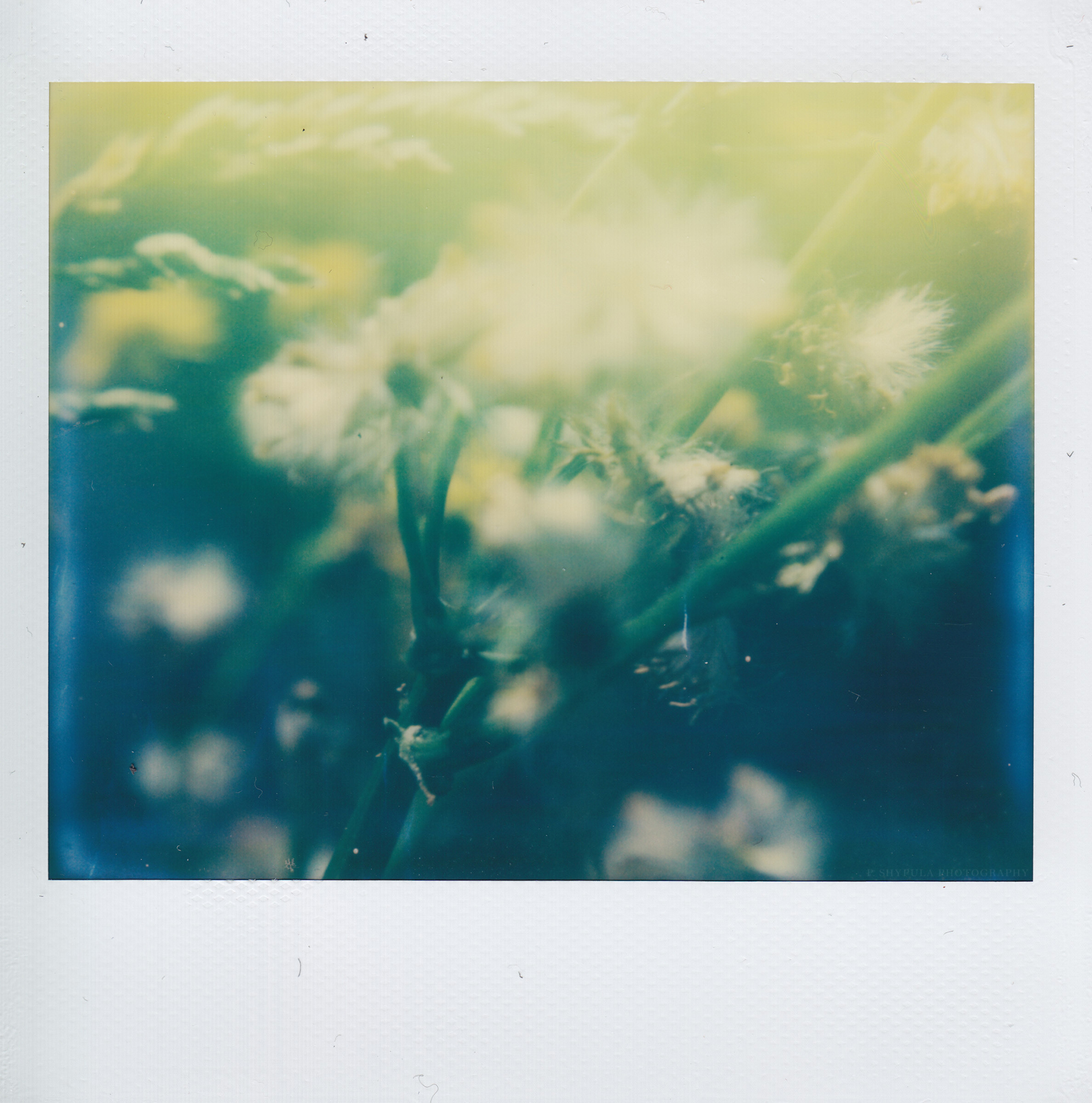 And here are two poorly done graphs of the cameras and film types I used because I've been sub-par at math:
Okay, now, thoughts.
Things that happened:
1. I spent a lot of money on film - With Impossible film, screwing up is really expensive and I screwed up A LOT... so I bought A LOT of film. At roughly $3 a photo, the project itself costs $156... and that is not including the dozens upon dozens of other photos I took... and that is not including the saddest of the duds that I had to completely omit from the Outtakes collection because they were really that bad. I did try to include most of the ones I took, even if they were rather poor just to show them. However, there some weeks that I took so many that I loved that choosing one for the official album was tough. All in all, I think they cancel each other out. Regardless, there are some less than stellar photos in the official collection due to several reasons [that I will expand upon below]: a) lack of inspiration b) lack of time c) putting the wrong film into the wrong camera d) equipment malfunction e) photographer malfunction However, I did get several packs of film for my birthday and was able to utilize Impossible's rewards points to help buy more film.
2. I spent a lot of money on cameras - I got my first Polaroid camera in my teens (maybe I was 16 or 17) and that was my Polaroid Impulse. Back then, Polaroid was already beginning to phase out its film, but it was still much cheaper... and much easier to use. My uncle then got me my Land 100 camera when I was in college, but I had NO idea I could still use it until maybe two years ago. I then got my hands on an SX-70 camera for $10 in relatively great condition (it was missing a shutter button, a defect remedied by Cory at http://landcameras.com/) at an antique market last year. This year, I really started to amass a collection (okay, okay... I started hoarding Polaroid cameras) that I either got at Goodwill or on eBay. The only camera I paid top dollar for was my newly acquired and most beloved Polaroid 680 SE. It was worth every penny.
3. I spent a fair amount of money on Polaroid accessories - Until I bought my 680 SE, my favorite camera to use was my SX-70 primarily because it had a manual focus option. I tried using more automatic cameras and apparently have a huge issue with understanding focal length in real life distances. I also preferred not using flash. But Impossible makes the most fun duochrome films for 600-type cameras only. I was also gifted a load of 600 packs for my birthday and was obviously going to use all of them. Impossible accessories leave a great deal to be desired - especially their Neutral Density filter (for non-camera geeks, it lets you use one type of film in a different kind of camera). Well... I used their filter and the results were a complete disaster. Long story short, I took about 6 packs of 600 film, a filter, and my SX-70 camera on a trip to Poland only to have the filter malfunction in my camera: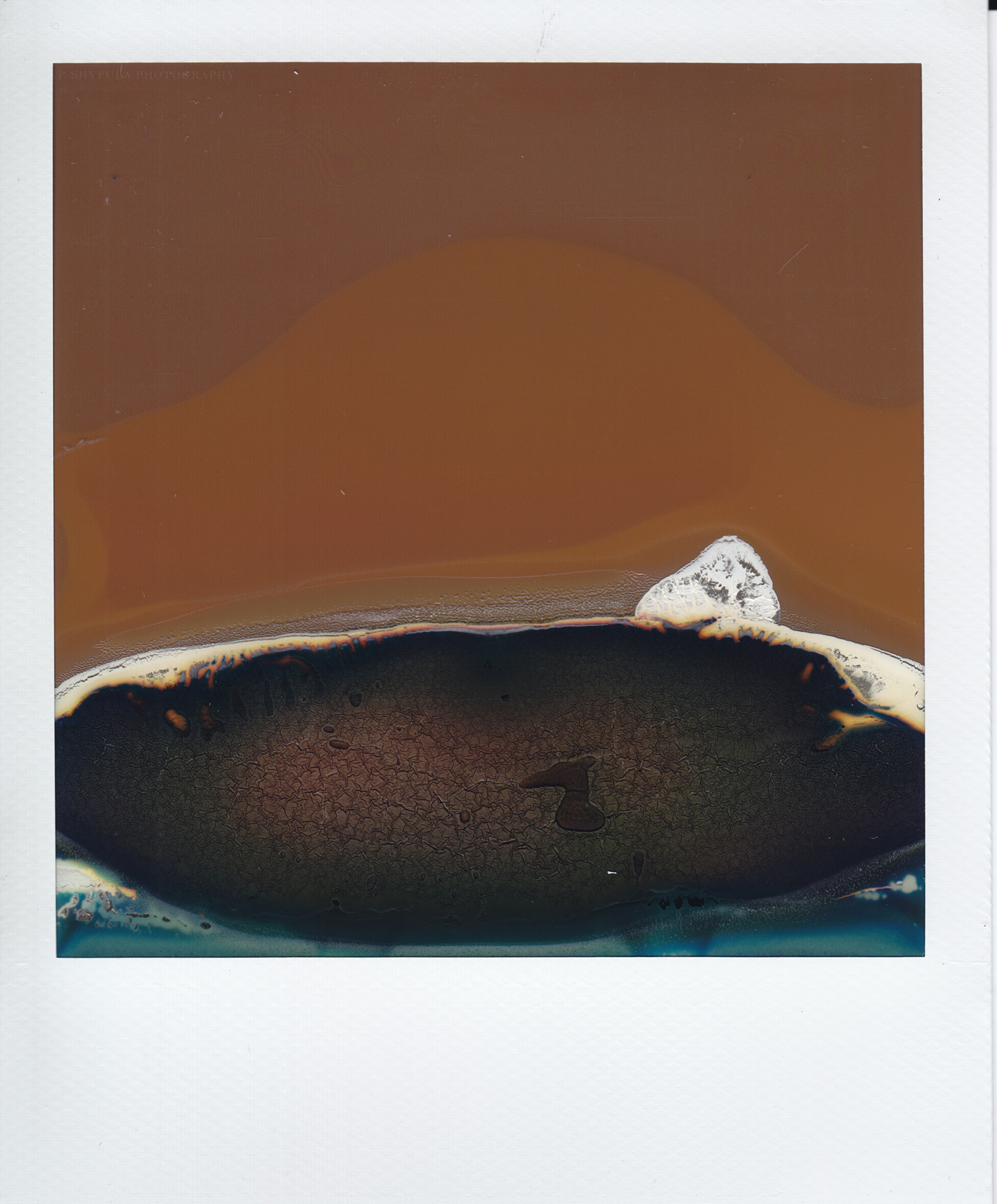 I had to forgo using the filter and just hope for the best:
The results are okay... but needless to say, I needed a new solution. I eyed and subsequently bought the MiNT filter system on eBay ... which obviously turned out to be more reliable until I needed to double up on filters (especially with the closeup lens), which I ended up taping together with electrical tape... super high tech. That's when I caved and got my 680 SE.
I also wanted to take more Spectra type photos, so I got a Spectra AF (I broke my other thrifted Spectra camera while cleaning it) and an Onyx version of the system (which looks so cool I didn't want to mess with it, so It's just sitting on my shelf right now.) I also got filters for the Spectra camera, but hardly used them. Ultimately, my SX-70 self-timer and cable release were the most invaluable tools to me. I did like using the prism filter on my old Impulse though.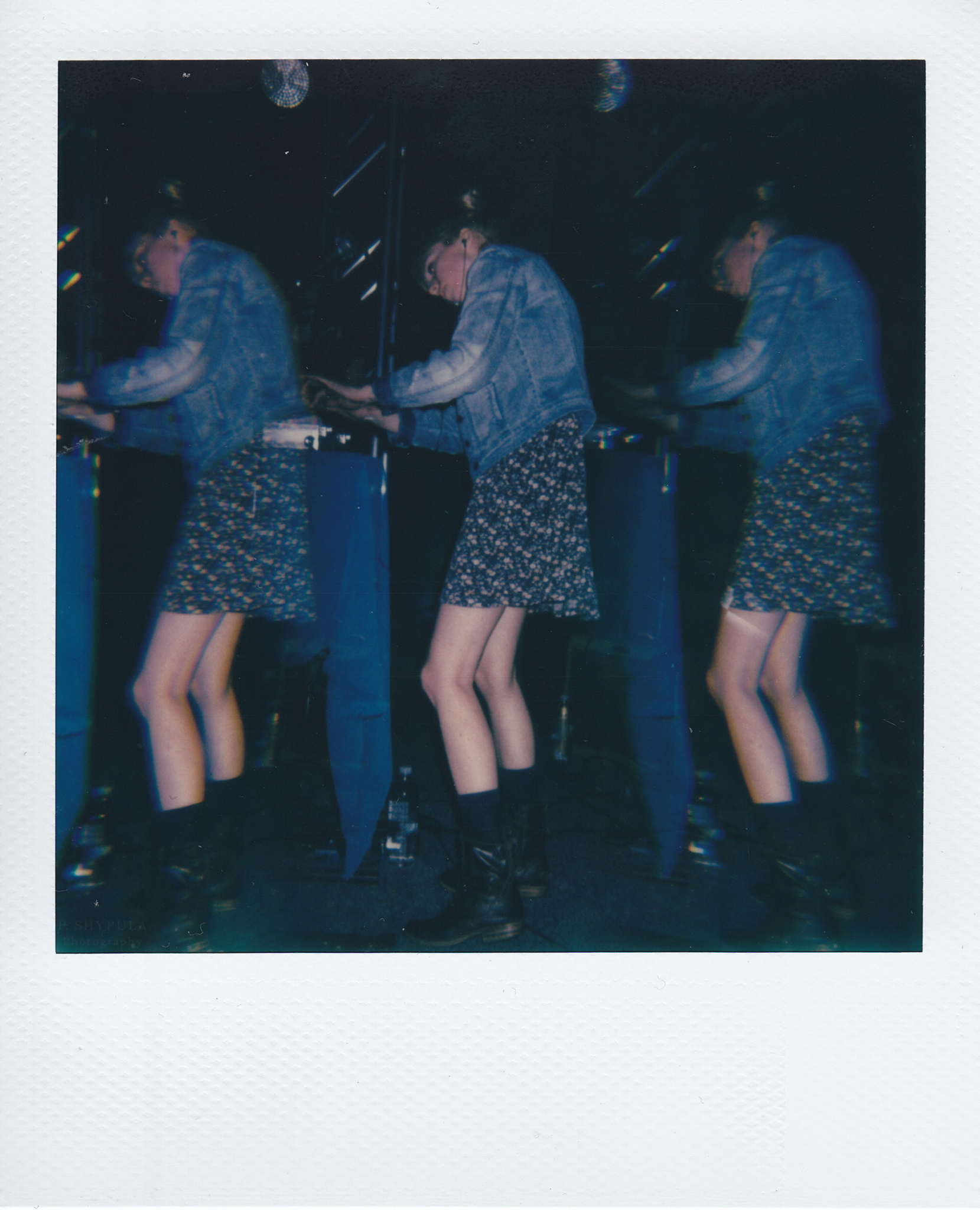 4. Other formats took a backseat - This year, I got a real job and started performing a lot more in comedy and dancing, so I had less time to take photos... which made prioritizing this project all the more difficult. I nearly forgot to take a Polaroid photo a few times, but can only remember on one occasion that I, in my sleep-deprived delirium, could have accidentally broken my rule of not using an old photo... but I am almost entirely certain that I was okay. I did take far too many photos hastily on Sunday night to meet my self-imposed. Headshots were a financial priority, so that meant I took very few photos in the 35mm format... and literally zero in 120mm format. I still haven't gotten my 35mm rolls developed because I've been spending my money on instant film. But since my significant other got me a Lomography ring flash for Christmas, I'll likely try to take more film photos this coming year. And I really miss making wigglegrams with my Nishika n8000.
5. Is there a writer's block for photographers? - A little past the mid-way point of the project, I just could not think of anything to take pictures of. I don't leave my house very much, so on the weeks that I was couped up doing work, I had a lot of trouble finding more things to photograph in my own house. Traveling a little bit to Poland, Michigan, New York, and Colorado provided some much needed scene changes for me... I guess both in my photos and personally. I often feel like my work is derivative and unoriginal, so this part was especially difficult for me. I am frequently reminded of this quote from Scarlet Johansson's character from Lost in Translation:
That line has resonated with me since I first saw the film and stayed true for every word of my writing I've hated and every photo I've taken of my feet (and my feet are featured more than once in the 52 album...). Personally, emotionally, whatever, this creative block was the hardest thing to get through in order to just keep taking photos even if they weren't totally amazing or perfect or whatever. And not beating myself up about it was/is even harder.
6. Where are the people? - I was sharing some of my favorite digital photos that I took this year this past week and found that people dominated my digital photography. However, most of my instant photos are of inanimate objects. I don't have an answer to my own question, it's just something that I noticed.
7. Technical difficulties - When you're buying cameras up from thrift shops and eBay, you're not always getting a user manual with it. And even if you are, it's not like they're very informative. The manuals usually include simplistic infographics on how to basically point and shoot a Polaroid camera and they therefore offer very little troubleshooting options. Similarly, the internet only goes so far in explaining things to you. I had to learn about the above-mentioned filter issue on my own since the it seemed that no one else on the internet shared my problems. Otherwise, I trawled through forums such as Flickr and Reddit to find answers. I almost broke my expensive 680 SE because I had no clue what I was doing with it and only sort of figured it out with a YouTube video. In an effort to prevent flash mucking up the contrast in my photos, I may have been damaging my Impulse all along. I found out way too far into my project that Impossible film is wonky with its ISO, so properly exposing the film took a long time for me to sort of get a handle on and I was still having issues just last week. Screwing up is expensive with these cameras and if I break something, it's not like anyone can fix them or they're readily available anymore. I screwed up a lot.
8. Peel-Apart film is gone and I still need it very badly - When I first started this project, I bemoaned the demise of FP-3000b: FujiFilm's old monochrome instant film. In the middle of my project, FujiFilm announced that it would cease production of its color film: FP-100C. This was devastating news as I was dying to get better with my Land 100 camera and wanted to get good enough on it so that I could eventually buy the ever-more expensive 3000b and use that. As you can plainly see from the collection, I didn't use the camera much because I just couldn't afford to screw up on it like I could Impossible film. Additionally, I purchased a behemoth medium format camera -- the Mamiya RZ67 -- and was hoping to learn how to use it with instant film. At least I would immediately know how bad I was screwing up as opposed to waiting to get a roll developed and scanned. So the camera is now sitting in my display case... collecting dust as it continues to intimidate me. But since Fuji now has a new line of Instant Film, I got myself a new kind of instant camera for Christmas: a lightly used Lomography Lomo'Instant Wide.
9. Community - I'm not a community-type person. I'm more of a... well... I guess a solo kind of person. But I still need validation from my peers and I suffer from the modern addiction to social media "likes." I started using operative hashtags on my Instagram posts to get likes, maybe to get selected by a curator's account (which never happened) and "connect" to other instant photographers. PolaWeek '16 was my biggest introduction to other instant photographers and I even had some of my Polaroid heroes (Looking at you, Toby SX70 & Basitank) like my photos on Instagram and Flickr, which felt incredible for me even if there are more talented instant photographers out there that they regularly "like" or "favorite." I still feel connected to that community in the superficial sense that we use the same hashtags on social media. Ultimately, I'm still insecure in my work and don't feel like I ought to be sharing it with professionals. But I'm working on it.
10. I can do this thing - I got the sense from the people who attempted to raise me that I wasn't very good at anything except for giving them a headache. It may have not been true, but I developed the feeling that I couldn't finish anything. Sure, I finished assignments and school and whatnot, but I jumped around in my academic pursuits from medieval history to writing... which I sort of managed to apply to my day job. Similarly, a lot of my freelance work is all about setting self-assigned goals and deadlines, something I wasn't sure if I was doing well enough. This project helped me realize that I can complete a project that I impose on myself, that I can also stick to rules that I make. I learned that I can teach myself a great deal. I also learned that I am privileged enough to afford Impossible Project film. In all seriousness, I am just proud that I stuck with it, that I made an effort to take a new photo each week, and that I unashamedly shared with everyone that I like to take analog photos of the instant variety. So yeah. It was great.... but I don't think I'll ever do it again. It was frustrating to wait 20 minutes for my photo to develop only to find that I had messed up the shot. Oftentimes, I just could not figure out how to make the photo look good. The hardest parts for me were just feeling pressured on Sundays to take a photo of SOMETHING. So now that I've proved to myself that I can do it, I think I'm good. I'll keep taking Polaroids for as long as my cameras work, but probably not at such a high volume driven by such anxiety.
So, with all that being said, here is a Polaroid from the new year!